Rio Valley 3D rendering
Maximizing skateable terrain in the limited space led to the snake run design.
Winton liked the snake run idea, inspired by images of the iconic Landsdowne, Maryland snake run and Team Pain's cutting edge concrete work in its Colorado skateparks like Arvada and Lafayette. He loved the idea of incorporating organic-looking boulder work into the skateable surface and was even thinking skateable "zuni-bowls" – those natural rock step falls and plunge pools which help prevent erosion.
Back in reality, we weren't using shotcrete and Bain was rightfully budget-concious with its dollars and man hours. A
simpler 4-turn snake run with an extension wall, pumpable/launchable hips and little left over steel coping  would get the
green light. The skate area's slope would drop only 1-foot over it's 88-foot length for migrating street water to the park
pond and for avoiding having to skate uphill too much on the return. The lowest 25-feet of length would have to match the
angled pond banks.
Hand-stacking concrete – Day 1
EPSA helped cut and set the formwork and teach Bain Construction's enthusiastic "curb and gutter" crew how to build curved skatepark walls.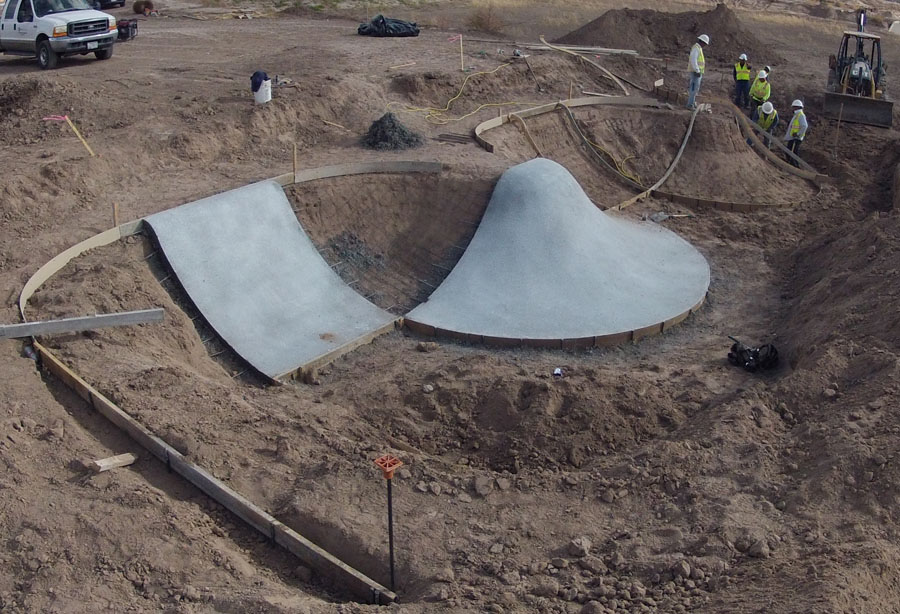 2 panels down
Day one success – with the first 2 panels in, the crew sets forms for the next morning's pour.  Bane's aggressive timeline called for 7am concrete, 4 days per week, 5 consecutive weeks!
Construction proper began in September 2013 with Bain's backhoe cutting into the Upper Valley dirt.  The first concrete forms were marked and placed, but because Rio Valley lies within El Paso City limits, inspectors red-flagged compaction forcing a redo.
Undaunted, Bain's concrete guru Daniel Pepi and his 6-man crew were enthusiastic about tackling such an unfamiliar project. Working pro-bono, EPSA joined in, taking the lead on cutting/setting formwork and basically teaching guys that typically do "curb and gutter" work how to build a skatepark.
The first 2 concrete panels were successfully hand-stacked on November 5, 2013.  The ensuing timeline was agressive – the crew working 12-hour shifts, pouring conrete in the morning and setting forms the afternoon, 4 days per week for 5 weeks straight!
While not perfect, the results were impressive for this crew and definitely fun to skate. Just ask Theron Nicholson
and Danny Ben, a pair of local rippers taking test runs on November 20th, with the first flat-bottom piece barely a day
old.
KFOX-TV did a story earlier in October, but with construction site liability an issue, more publicity was not encouraged
for several months and a temporary chain link fence was erected  to deter (but not truly stop) those "in the know" from
rolling the new spot.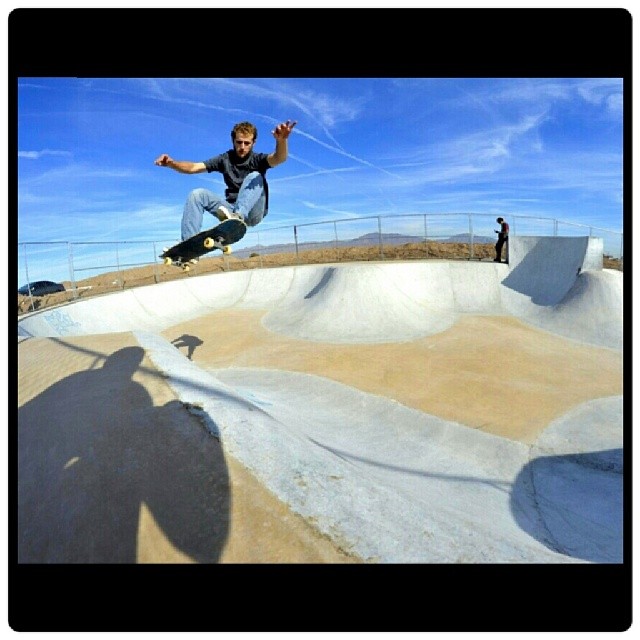 Test pilot Phil
Phil Sullivan blasting a big frontside floater off a hip Rio Valley hip. Photo: Kyle Rowland
Fenced in
Although the ditch was complete, Bain Construction thought it wise to erect a temporary chain link fence for a few months due to liability issues associated with a still-active construction site.  But when has a fence ever deterred determined skaters?  Undeterred, Diego Alvarado attacks the extension! Photo credit: Ryan Maddox
Rio Valley's central park was sodded in April 2014.  Home-building soon followed and Winton welcomed potential home-buyers with a community preview festival in January 2015 which featured home tours, balloons, music, food trucks and of course, skateboarding.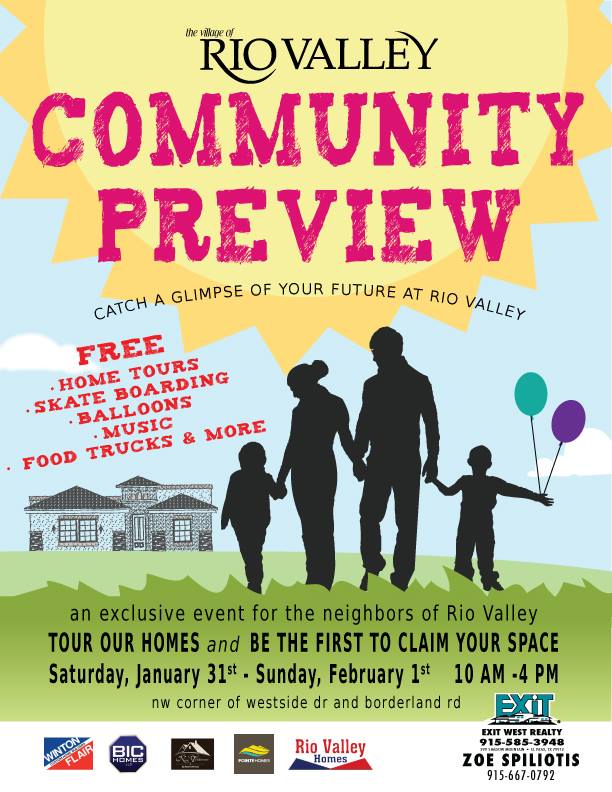 Home buyers welcome!
Scott Winton's hoping the skate ditch amenity will make Rio Valley community more attractive to future home buyers. This January 2015 festival-type event featured home tours, skateboarding and more!
Admiring the curving concrete, Winton smiled, "This is cool. Hopefully, it can help us sell a few more homes!"
Rio Valley is EPSA's 3rd skateable storm water drainage project in the El Paso area.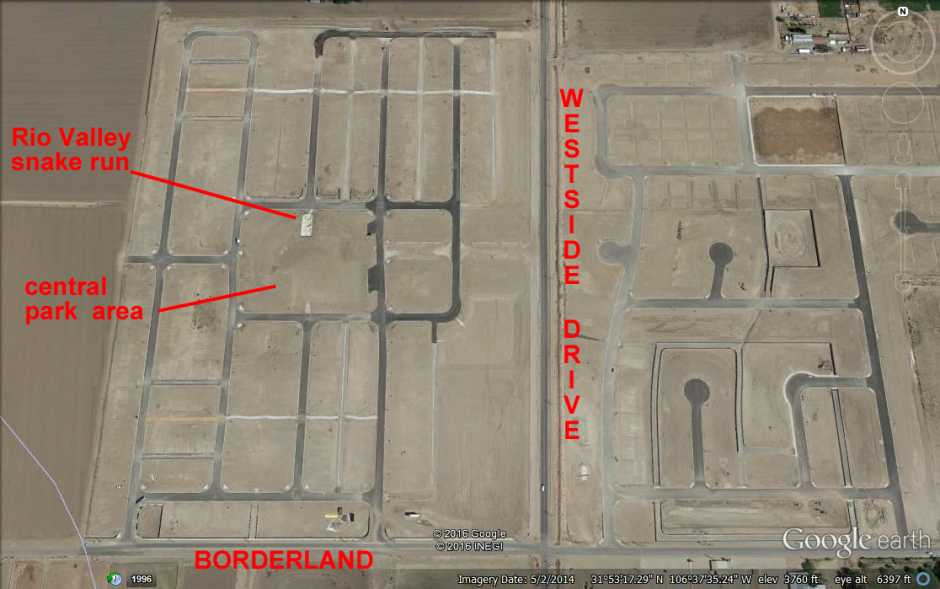 How to get there
The Village of Rio Valley is located at 6441 Westside Drive and the snake run ditch is right smack in the middle in the central park pond.
This Google Earth image from May 2014 shows the basic street layout when the ditch was just about the only thing built out there.
Now, you'll find plenty of nice homes, green grass, playground area and plenty of good times – the pomegranate festival is going to be awesome!