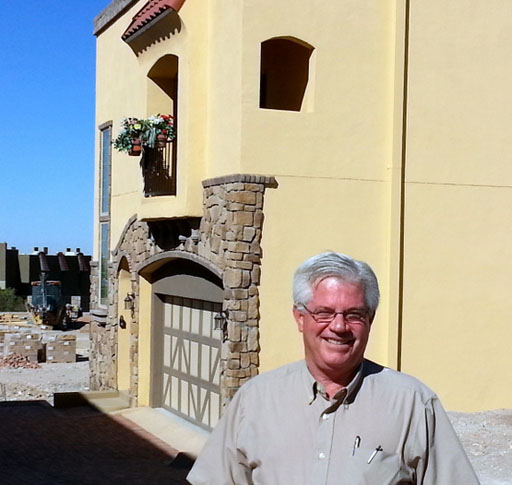 Scott Winton – the catalyst
In Santa Teresa, New Mexico, a few miles north of El Paso, Texas, Winton Homes began developing a new subdivision called Edgemont.
"From a business standpoint, our goal is to make as many homes as we can on the land and sell them." says owner Scott Winton.
Winton also understands the landscape of why people might buy a home: "We wanted to add a basketball court, a playground and a small skatepark." he said.
Photo credit: El Paso Development News
Luckily, local skater Chris Najera (aka PC) had just put money down on a house in Edgemont. He was excited when he heard a skatepark was going to be built, but was bummed when he heard it was going to be a modular park. The El Paso area has its fair share of poorly built modular park, and another park like this built in the area would be an insult.
As a result, P.C. approached the developer as a homeowner and a skater, and explained how a concrete park is a much better option. Remarkably, Winston listened to P.C.'s advice and started thinking of ideas. One of the ideas was to convert a planned drainage ditch into a skatepark. The developer had to build a concrete drainage ditch anyways, so why not build a multi-use drainage ditch that could also be used as a skatepark.
That is where the El Paso Skatepark Association (EPSA) stepped in and helped the process. After years of seeing poorly built modular parks pop up the group developed to educate decision makers on the right way to build a skatepark. Since Santa Teresa was a neighboring community the EPSA was happy to help out.
Hand stacking concrete
The first concrete trucks rolled up on the morning of September 10, 2009.
The contractor who normally built sidewalks and curbs would be hand stacking radius walls for skateboarding. During the two week build EPSA reps were on site to monitor the construction.
Since the contractor had never built a skatepark it was especially important for us to make sure the forms were set and the concrete finished properly.
As the construction ended, the legalities of such a spot remained unanswered. To date there has not been another neighborhood, city or county to embark on such an endeavor. Winton showed up and explained that the City of Sunland Park (which governs Santa Teresa) had agreed to the plans for modified drainage.
When the subdivision construction is completed Winton will turn over the ditch to the city, and it will become city property. The only signs posted warn of flash floods. However, there is no signage saying that this is a skatepark or a skatespot, it's considered a ditch.
Magazine coverage
EPSA board member Bill Robertson happens to be old buddies with the publisher of Concrete Wave magazine Michael Brooke.
He told him what we'd done with the Edgemont project and pitched the idea of us writing an article for the mag – Brooke was down.
So…we had a sesh, took some photos, put pen to paper and got published in the Spring 2010 issue with an article called Which came first – the drainage ditch or the skatepark.
Ed Templeton
The Edgemont Ditch has attracted skaters from all over the country. Traveling pro skaters will put it on their list of things to hit because of its uniqueness.
Back in February 2011, legendary pro Ed Templeton stopped by with the Burnout crew as they explored the Northern Gate for Thrasher Magazine.
The Edgemont Ditch goes to show that a skatepark does not have to always be a skatepark, it also shows that a skatepark can be multi-use. In this situation, the skaters and the developer thought outside of the box and were able to create something that has never been done before.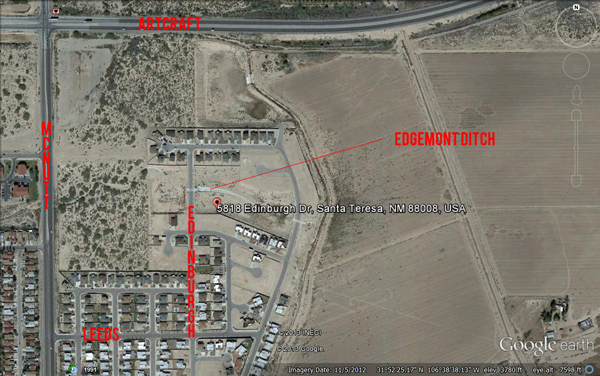 Get there
You can find this ditch in Edgemont subdivision located just southeast of the major intersection of Artcraft and McNutt in Santa Teresa, NM.
Our best estimated address is 5818 Edinburgh.
For the direction-inclined: from Interstate 10, exit Artcraft and head west to McNutt, turn south on McNutt, turn left on Leeds to Edinburgh, turn left on Edinburgh.  Go down a wee bit and the ditch will be on your right hand side.