Eastside Regional skatepark update
Development of a 92-acre park near the corner of Rich Beem and Montana is scheduled to include a 50,000 square foot skatepark. That's about the size of regulation football field.
For reasons of money and construction management, the park will be built in phases with the design/build of Eastside Regional skatepark will go down in Phase 2 and expanded in Phase 3. Estimated timeline? Unknown.
Phase 1 is well underway. In March 2016, a $2.9 million contract was awarded to Perkins and Will/InSitu  to develop a design for the indoor and outdoor pools, a community center, roadways, parking lot and some landscaping. Word is Phase 1 design only will take about a year to complete.
Location
The park will be located on a massive plot of land near Montana Avenue and Hueco Club Road in East El Paso.
Back in the day, this was the YWCA Hueco Conference and Recreation Center Golf course – it was deeded to the city about 10 years ago by developer Douglas Schwartz of Southwest Land Development Services.
Before that, the El Paso Natural Gas Co. donated the land to the El Paso YWCA in the 1990s, which then sold it to Schwartz.
The park is funded by the 2012 Quality of Life Bonds.  When completed, the $48 million dollar park will be approximately twice as large as Eastwood (Album) Park and three times as large as Marty Robbins Park.
The City Council in 2014 awarded ECM International Inc. of El Paso a $1.9 million contract to oversee the design, bidding and construction of the park, as well as a $690,000 contract to Halff and Associates to create the master plan.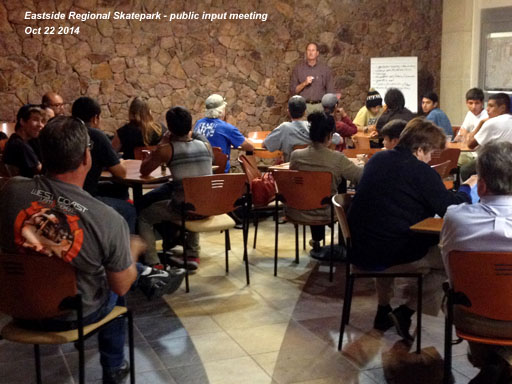 Public input
The first skatepark specific public input meeting was held at Sierra Providence East Medical Center on October 22, 2014. Wayne Cooper from Halff and Associates (master planner) facilitated the gathering of about 40 skaters and other interested parties encouraging them to make a broad wish list of stuff they'd like to see in the skatepark.
Some far-fetched wishers asked for stuff like free broadband Wi-Fi while EPSA reps focused on sheer size – heck, we asked for  100,000 square footer! But, after City Rep Michel Noe said the entire park budget was only $48 million, we figured it would likely be smaller. By public input meeting #2, we got scaled halfway back to 50,000 square feet – still massive!
Master Plan
After some more interactive public input meetings on the park's master plan, Halff and Associates came up with several fancy-looking concepts for the 92 acres that folks got to vote on.
Despite EPSA's insistence to Halff that side-by-side but separate  skate and BMX parks would only serve to limit terrain and create problems with an unmonitored facility, it showed up on the final master plan anyway – whoopsy!
EPSA immediately reached out to City Rep Noe, Parks and BMX community leaders to mitigate any possibility of a skatepark design RFP going out based on Halff's drawings. Notably, master plan text says final designs may allow for dual use in one facility on page 48.

Mas info?
If you're wanting more information, then the City's got a website fully loaded with the latest and greatest  www.eastsideregionalpark.com.
When it's finally completed, it should be great.  But it's also a huge undertaking and they ain't rushing to get it done like the downtown triple-A baseball stadium, so…patience will serve us well.